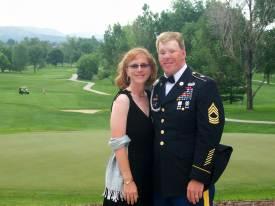 I am Retired United States Army Master Sergeant Todd Nelson. In 2007, after serving 17 years on active duty, I was wounded in Afghanistan when I was hit by a suicide bomb that detonated less than ten feet from me. My life was instantly changed as I adjusted to a new normal. I now spend my extra time telling my story to others as asked, in order to give hope to those facing hard times. Feel free to look around. Start with
Our Story
 and
Sarah's Journal
to read a little of our background. Then take a deep breath and take look at the
Photos
page.  Next, visit
Sample Speeches
 for examples of how we have inspired others as well as news articles, videos, thoughts, and events. If your organization would be interested in booking an opportunity to hear my story first hand and learning how they can turn challenges into triumphs, please fill out our request form via the
Book an Engagement
 page. Potential speech topics include:
Inspirational: Do It Again! Rising From The Ashes Inspiration to continue on after being knocked down.
Military Support: They laid it all on the line for you, what are you willing to do for them? Keep your organization focused on it's support efforts.
Faith: Will you be ready for game day?; Taking steps of faith; Building a strong foundation Encouragement to start your walk with GOD, TODAY!
You will be amazed at what we are capable of overcoming when we have a dream! As you look around you will be see how God has helped me not only to recover, but do so abundantly by educating and inspiring people all over the world! Be sure to check back from time to time as there will surely be updates to the site as opportunities arise! Be Blessed,
~Todd